When Life Has You Planning For What's Next
Do you worry if you will have the financial resources, well-being and freedom to experience the absolute best of what comes next?
Are you feeling stuck and bound by the golden handcuffs of your current career and desire something far more purposeful and fulfilling?
Are you at a point in your career where you feel diminished but want to continue having impact and value?
If this is how you feel, you are not alone!
What does living life at its PEAK mean for you?
Find out how you can begin transitioning and charting a course that empowers you to live life at your peak with the highest level of satisfaction and accomplishment. Sign up to receive my free guide which helps to get you started by taking those first steps.
Sign Up To Receive Your Free Guide: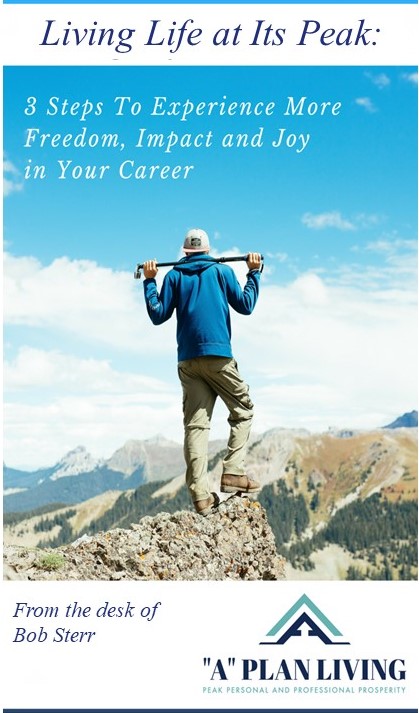 Living Life at Its Peak:
3 Steps To Experience More Freedom, Joy and Prosperity in Your Career
This guide will help you to:
Develop clarity around what really matters for you at this time in your life
Shift your thinking from the realm of possible to the realm of the doable
Identify what you need and how to get moving forward toward your life's peak
Who wouldn't want to be in touch with what really matters! No doubt there may be dreams and aspirations along the way you have left on the table. Your hopes and desires are still there inside you. Why not act on them and make sure your next steps are directly aligned with the contribution and legacy you wish to leave behind? Sound good?
The most important thing for you to do now is to take the first step. My gift to you can help you do just that. Use the sign-up form on the right to receive my guide to help you take that first important step on your journey. Get ready to experience more of what you want in your life today.
Use the sign up form to get your free guide today
"There is no passion to be found playing small—
in settling for a life that is less than the one
you are capable of living."
Nelson Mandela

Bob Sterr, MS, MBA, CPCC
Principal – [A] Plan Living
Connect with Bob by Email
Schedule with Bob